Ariana DeBose's BAFTAs Rap Review: Contrary to media uproar, it was not the worst awards show moment ever
Feb. 19 marked the broadcast of the 76th British Academy Film Awards, more popularly referred to as the BAFTAs. The coveted award is often said to hold the same weight as an American Oscar. Although notable household names secured wins, such as "Elvis" actor Austin Butler for Best Actor and "Tár" actress Cate Blanchette for Best Actress, it can be argued another event garnered mass media attention. Something that really "did the thing," you may say. 
That thing is Ariana DeBose's famous, or infamous, rap performance at the BAFTAs. Intended to celebrate the female nominees being honored at the event, some feel it was just cringey. The perceived awkwardness was so extreme that the performance went viral on social media and made headlines in major news outlets such as CNN. 
Although the event dominated the entertainment-related news for the few days that followed, it is not the first time a less-than-stellar performance or interaction received criticism. That being said, it is most definitely not the worst. It falls in last place of the top five worst awards show moments of the past 20 years.
5. Ariana DeBose "Did the Thing"
YouTube
DeBose's performance admittedly did cause me some second-hand embarrassment, and the resulting bullying drove her from Twitter. Despite this, I do not think it was that bad. My main issue with it was not the lyrics, but the delivery. DeBose was running around the BAFTAs venue and stage, which caused her to be out of breath. Consequently, there was a peculiar enunciation of the lyrics, "Angela Bassett did the thing, Viola Davis, My Woman King." 
Otherwise, the lyrics to the rap were catchy and simple. They themselves were not impactful or skillfully written, and they weren't intended to be. "Did the thing" is not very specific and neither is "Carrie with a 'c,'" but they were cute, and they rhymed. They served their purpose of being rhythmic and light for an awards ceremony. Additionally, they got to the point of highlighting the topic at hand: the accomplishments of the female nominees. 
Yes, it was awkward, but I would rather hear her deliver the lines in an accent reminiscent of a valley girl than to have a lip-synching slip-up. I appreciate that the flaws in her performance revealed that it was genuine. Speakers and monitors don't lose their breath, only humans do. I gave her an overall pass for the faux pas. The opening act of her performance served as justification enough that she is a wonderful singer. 
4. Jimmy Kimmel Misses the Hint
YouTube
This next faux pas is less forgivable. At the 74th Emmy Awards, Quinta Brunson was accepting her award for Writing for a Comedy Series. Actor and comedian Will Arnett and talk show host Jimmy Kimmel took the stage to present the award. Part of their bit was Arnett dragging Kimmel, who was knocked out "drunk," by the ankles. As Brunson took the stage, only Arnett exited. Kimmel was still laying on the floor in front of the microphone. 
It took away from what should have been Brunson's moment and her moment only. I adore comedy, but I didn't find it funny. As an avid fan of "Abbott Elementary," which saw Quinta Brunson's rise from Buzzfeed to being the first Black woman with three Emmy comedy category nominations in a single year, I may be biased after following her career for years. Nevertheless, it was disheartening. Brunson did play it off in her quick-witted comedic style, indirectly alerting Kimmel to his opportunity to gracefully exit by saying, "Jimmy, wake up, I won." When Kimmel was unresponsive, she responded with, "Okay, hold my phone," and placed it on his chest.
This event was ranked No. 4 because it was just inconsiderate and rude. Decorum was left backstage, but the following event may have led to backstage medical treatment for both several fans and the performer's ego. 
3. Billboard Music Awards Induced Concussion
YouTube
American singer Miguel suffered from either a momentary lapse of reason or poor spatial skills at the 2013 Billboard Music Awards, or both. While performing "Adorn," he jumped from the main stage over the crowd to another part of the stage. In midair, two female fans got split-kicked as Miguel makes his way across. The final blow comes to another female fan close to the edge of the platform Miguel is trying to jump to. After her neck gets lassoed in his leg, the impact brings her head down into the platform, and hard. Miguel adopts the "show must go on" mentality and continues performing, singing a falsetto. Other fans come to the woman's aid, and she disappears into the crowd, presumably for medical attention. 
To add insult to injury, Miguel hugs another fan nearest to the incident's scene while singing, possibly thinking it was the woman who got hurt. Two years later in 2015, Miguel was sued by one of the women for the mishap. These women's injuries could have been more serious. Given it was Miguel's lack of judgment and disregard for the fans, it ranks No. 3 as one of the worst awards show moments.
2. "Im'ma Let You Finish"
YouTube
This event almost needs no introduction. The words "Im'ma let you finish, but Beyoncé had one of the best videos of all time" have been infamously cemented in pop culture. At the 2009 Video Music Awards (VMAs), Taylor Swift won the award for Best Video by a Female Artist for the music video for "You Belong With Me." Taylor Swift starts to make what would be her awards speech, but the microphone is snatched from her. She is interrupted by Kayne West, who, to this day, has been causing conflict with his words.  
Swift stood stunned on stage, and musicians, artists, actors and audiences were left shocked. The event has continued to remain relevant. It was brought up two years later at the 2015 Grammys when Beck won Album of the Year and West appeared to try to repeat history. Beck, most notable for his song "Loser," gestured for West to return, but most claim West was simply joking. 
It ranks No. 2 because this event is so notorious that it was beyond uncalled for and rude and is even making comebacks today. Most recently, fans took the defense of Beyoncé yet again, this time setting sights on 2023 Grammy Album of the Year winner Harry Styles. Heckled by Beyoncé fans as he was accepting the award, people noticed Taylor Swift standing up as he delivered his speech. Most speculate that this was out of support, especially considering she has been in a similar situation before.
1. The Slap Heard 'Round the World
The envelope is here, and this isn't a "LaLa Land" and "Moonlight" mix-up. The ranking for No. 1 worst awards show ceremony goes to the Oscars slap. Most of my fellow students will be familiar with "The Shot Heard 'Round the World," which refers to the first shots fired at the Battles of Lexington and Concord, marking the start of the American Revolution. "The Slap Heard 'Round the World" seems a fitting term for our first-place winner. 
The event even has its own Wikipedia page (the telltale sign of legitimacy, I know), and has been dubbed the "Will Smith-Chris Rock Slapping Incident." Will Smith's slapping of Chris Rock was brought on by Chris Rock's joke about Jada Pinkett-Smith's prospective role in G.I. Jane due to her baldness. Feeling that Chris Rock overstepped a boundary, since Jada Pinkett-Smith has alopecia, Will Smith walked onto the stage and slapped him. Both the celebrity attendees and viewers at home were questioning if the event was a staged bit. The truth was revealed after the televisions went silent as Smith shouted profanities at Rock.
This event is ranked No. 1 because it is a blatant assault. Although Smith was banned from the Oscars and other Academy events for the next decade, the assault warranted criminal charges from Rock. Furthermore, the event can be debated as being culturally significant. It sparked a debate about the deterioration of Hollywood and celebrities not always receiving the punishment they deserve.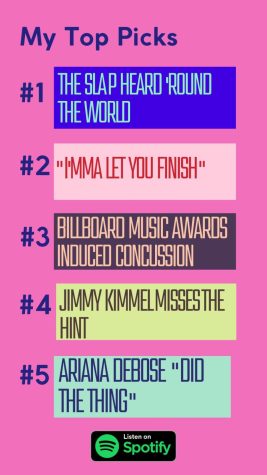 Final Note
When comparing all the unideal events that have happened at awards shows, it can be concluded that not all awards show blunders are made equal. Some are more disastrous than others. In light of this revelation, hopefully this provides some solace to DeBose and convinces people not to overly criticize her. A performance without slapping, fly kicking and microphone-snatching is an excellent performance in my book. 
Leave a Comment
About the Contributor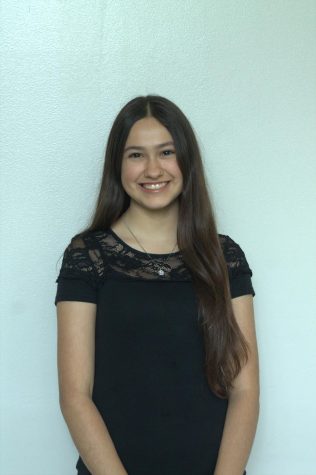 Sasha Cabral, Entertainment Editor
Sasha Cabral is a junior at CVHS. A musician and an artist, she imbues everything she does with creativity. She loves rock music, the colors red, black...