Greta Van Fleet's The Battle at Garden's Gate: leading the charge for a Rock revival
"Rock is dead." That's a phrase that one too many rock fans have heard to justify why pop and rap currently dominate the mainstream music industry. It seeks to condemn the rock genre, as most people currently understand it, to a grave of the decades when it was most prevalent, the 60's up to the 90's. From the late 1990's White Stripes and Muse to 2014's Dorothy, there have been a number of rock artists throughout the 2000's leading up to now. Despite this, none were a part of a strong musical movement, such as the 1980's glam rock movement or the 1990's grunge emergence. This left many hopeful rock fans to believe that the genre was indeed dead. Just like the recent bands before them, Greta Van Fleet, with members all in their mid to late twenties, are seeking to challenge this idea and help revitalize the dormant genre. 
Greta Van Fleet hails from Frankenmuth, Michigan. Formed in 2012, the band's members are composed of three brothers: vocalist and frontman Josh Kiszka, guitarist Jake Kiszka, and bassist Sam Kiszka, along with drummer Danny Wagner.
In 2017, they debuted with their EP Black Smoke Rising, sending shockwaves throughout the music community. One of their most well-known songs, "Highway Tune," hit Number 1 on Billboard's Mainstream Rock Songs. Additionally, they have garnered much recognition since then. In 2019, the album From the Fires, earned them a Grammy Award for Best Rock Album. "Safari Song," which is on this album, won the iHeart Music Award for Rock Song of the Year. In April 2021, the band released The Battle of Garden's Gate. Each song sounds like a revelation, from the lyrics, to the guitar riffs, to the solos.  
The song that most resonated with me was "My Way, Soon," which is about exactly what it sounds like- doing what you love. With the initial opening sounds reminiscent of howls on an empty country road, the lyrics detail what it is like to be "on the road," or touring. I listened to this album, in its entirety, on a road trip through the Texas countryside, contemplating what "my way" exactly is. Josh sings, "I've seen many places. There are so many places. And where are the people going? Will they choose the road?" The band members chose the road. They decided to travel across the globe playing music, while most people won't choose the road, and deciding to do so is often met with people thinking creative success will never happen for you. Just as the rock genre has been doing for decades, Greta Van Fleet decided to be defiant. 
They continue, with Josh singing, "I've packed my bags and I've got my freedom. I've sacked the rules so I don't have to heed them. I'll bet on a chance if I've just got one. I'll throw out the plans and live with no burden." He describes living carefree with no restrictions and stresses. The life of a professional musician is an unconventional one. As an aspiring musician, tales of their life, the life that's my goal, is reassuring, especially when my goals have been challenged by those who feel that job is not for them. Despite how this message resounded with me, it can be interpreted by anyone who chooses to do whatever makes them feel liberated, with Wagner's energetic drum fills and Jake Kiszka's guitar riffs serving for a revitalizing and uplifting effect.
In addition to "My Way, Soon," "Age of Machine" has become not only one of my favorite songs from this album but one of my favorite songs in general. "Age of Machine" is a continuation of "Age of Man" from the Anthem of a Peaceful Army album. Despite the similar name, its sound is most similar to "Brave New World's" guitar riffs and drum fills, with Wagner going all around the kit with intensity. The lyrics on "Age of Machine" are composed of metaphors about humans' reliance on technology and its detrimental effects on the environment. This song displays an epic approach, with the length pulling inspiration from other masterpiece Led Zeppelin songs like "No Quarter" and "Kashmir." Jake Kiszka's haunting guitar riffs. Josh's powerhouse vocals. Sam's strong basslines. Danny's heart-pounding drums. All of the instruments have unique qualities that contribute to the overall sound of the song. 
"Built by Nations," adds to my repertoire of both favorite songs from this album and Greta Van Fleet songs in general. Jake Kiszka's guitar tone has Led Zeppelin's Jimmy Page written all over it. I am attracted to this song because I'm an avid lover of drop D-tuning, which is the process in which a guitar's lowest note is tuned down an entire step to D instead of E. This song does not do this, but I am a strong advocate and fan for heartier guitar riffs and tones, and this song definitely delivers. Although it evidently takes inspiration from Led Zeppelin, a band they have been accused of copying, it is still Greta Van Fleet's song. Like all artists before them, the band members looked up to other artists; therefore, they sought to emulate their sound while adding their own unique characteristics, making the song theirs.
The Battle at Garden's Gate made me feel as if I had a revelation. A transcending journey of self-reflection, with the message of some songs, such as "My Way, Soon," making me think about my goals and personal journey to happiness, and "Age of Machine" having me contemplate human existence and our dangerous relationship with technology. The songs aren't what most people accuse rock of being. Empty racket. Songs such as "My Way, Soon" and "Age of Machine" have philosophical messages that can resonate with people no matter the era, proving they will endure the test of time. This goes to show that rock is not dead. Greta Van Fleet revives the genre with new music, channeling the sound of classic rock bands like Led Zeppelin and Rush, thus exposing the younger generations to the classic rock genre and bands. Much to both my and my fellow rock fans' rapture, this album gives us the hope the rock genre reemerge from the shadows and be declared alive and well once more.
Leave a Comment
About the Contributor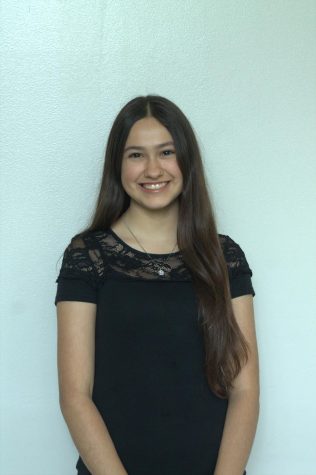 Sasha Cabral, Entertainment Editor
Sasha Cabral is a junior at CVHS. A musician and an artist, she imbues everything she does with creativity. She loves rock music, the colors red, black...