Jon Batiste's We Are album deserved the Grammy Award for Album of the Year, CVHS students disagree
On April 3rd, 2022, the Grammy Award for Best Album of the Year weighed Jon Batiste's soulful and jazzy We Are album against some of the biggest household names in the pop industry: Billie Eilish, Olivia Rodrigo, and Taylor Swift. Swift, Rodrigo, and Eilish have reached such stardom that one does not need to listen to their music to recognize their name, which is why Batiste's win for Best Album of the Year shocked many.
Jon Batiste, formally known as Jonathan Michael Batiste, grew up in Louisiana, New Orleans. Coming from a family of musicians, Batiste went on to graduate from the Juilliard School in New York City. Most recognize him from their televisions as the bandleader on CBS's The Late Night Show Stephen Colbert or as Elmo's one-time co-performer on "Sesame Street." 
Although he has not garnered as much notoriety as the likes of Eilish, Swift, and Rodrigo, this is not his first notable award or project. Batiste has had fourteen Grammy nominations and five wins. Furthermore, his work with Trent Reznor (whose music I greatly admire) and Atticus Ross on the musical score for Pixar's Soul earned him an Oscar. In terms of award-recognition, Batiste is no amateur. 
That being said, he is lacking in recognition from general listeners, including Carnegie students. Based on a Google Forms poll, 70.3% of students surveyed report not knowing of Jon Batiste before his Grammy win. An even fewer percentage of surveyed CVHS students listened to his music–only 8.1%. Batiste's win did bring him some recognition amongst students, but not significantly. While 8.1% of students were already listeners, 73% of students did not listen to his music after the win. 
Viewers were surprised at Batiste's win over the other nominees, leading to full-on articles that seem to imply his merit was not the only reason he won. Carnegie students share a similar perspective, with 62.2% believing Jon Batiste should not have won the Grammy for Best Album of the Year. As someone who primarily listens to rock music, my tastes make me more apt to favor bluesy sounds, which Batiste definitely delivers. I have always been a strong advocate for going against the grain (a key element of the quintessential "rock and roll" attitude), and, unlike the majority of CVHS students, I think Batiste was simply the most qualified out of the nominees he was competing against. 
Regardless of taste, it is an undeniable truth that mainstream contemporary artists usually secure Grammy wins, especially that of the coveted "Big 4" Grammy Awards: Album of the Year, Record of the Year, Song of the Year, and Best New Artist. Batiste's soulful, mo-town-and- jazz-inspired music is a much-needed refreshment from pop music. In the We Are album, there were four songs in particular that convinced me that this album rightfully deserved to "take the cake." 
"We Are:" "We Are" is the album's title track. The song's visualizer captures footage from the George Floyd protests, which is what inspired Batiste to write the album. The first thing that caught my attention in this song was the intro drumbeat's fat, punchy snare. Widely used in the 70's, this automatically made the song feel groovy. Featuring New Orleans Gospel Soul Children, Batiste incorporates a soulful gospel influence in the chorus. In the song's interlude, Batiste employs some of that classical piano training into the seamless transition into an ethereal piano melody. Then the song flows into the chorus with a marching band beat played by New Orleans' very own St. Augustine High School Marching 100. The song feels like a call to action in the fight for peace, and the uniting theme expressed by the lyrics "We are, we are, we are, we are the golden ones\We are, we are, we are, we are the chosen ones," is further cemented by how Batiste brings in musical groups from his hometown. 
"I Need You:" Admittedly, when I first read the title I thought it was going to be a very vulnerable love song, but I was genuinely surprised. The song hooked me with a Roaring 20's jazzy swing beat. The music video plays off this theme with swing dancers emerging from a photograph of what appears to be a bustling jazz nightclub. Batiste then adds a modern spin to the song with a catchy verse and chorus, while maintaining the jazzy sound with the bassline, piano, and saxophone instrumentals. The song in its entirety, from lyrics to rhythm, is the epitome of a "feel-good" song. 
"Freedom:" Batiste performed "Freedom" at the Grammys, and the colorful, vibrant performance reflects the song's vibe. The opening beat set up for the songs upbeat feel. The funky bassline in the refrain inevitably causes the listener to be in a good mood. Heavily drawing on soul, R&B, and mo-town sounds, this song shows Batiste's merit in terms of songwriting, because he brings a fresh take on these earlier musical genres.
"Show Me The Way:" Reminding me of a faster-pace version of chicano oldies, this song embodies the soulful R&B essence of Jon Batiste's songwriting. This vibe is especially evident in the chorus, where Batiste sings "If I don't know\If I don't know\If I don't know\You gotta show me the way \Show me the way."
The number of musical genres and sounds in this album, from jazz and swing music to soulful gospel and pop, shows Jon Batiste's versatility in songwriting. As a rock fan, I acknowledge my bias towards his blues influences that the other Grammy nominees did not have. I know R&B is not everyone's taste, but Batiste integrates these sounds into several pop-like and catchy songs that can appeal to all audiences. This makes the album primed and ready for both mainstream listeners and those looking for some "soul" in modern day music. The Grammys gave Batiste a surge of recognition, opening the door to funk and soul for many.
Leave a Comment
About the Contributor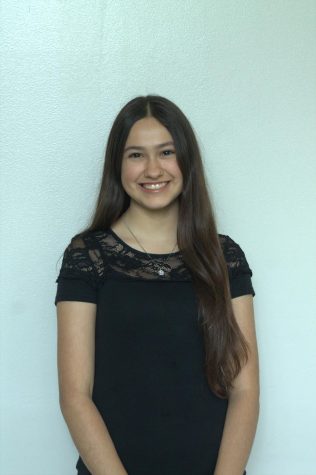 Sasha Cabral, Entertainment Editor
Sasha Cabral is a junior at CVHS. A musician and an artist, she imbues everything she does with creativity. She loves rock music, the colors red, black...