Battery acid isn't bad — you're just doing it wrong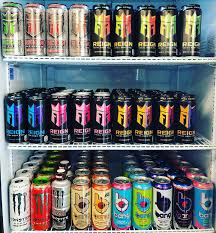 A recent study conducted by the School for Sleep Deprivation and Coffee Bean Craftery reveals that teenage students have grown immune to the majority of FDA-approved caffeinated drinks.
With an overload of work, students are struggling to remain awake during their classes due to their developed immunity.
Students are going to extremes to remain awake in class – from electrocuting themselves to ingesting deadly chemicals, fears of a second wave of Tide Pod eaters are arising.
Around the world, gas stations and grocery stores are accumulating an abundance of Monster energy drinks, so much so that YouTubers have begun profiting on the thousands of cans thrown away daily.
"It's terrifying," said Care & Cure Hospital nurse Margret Wattson. "There's so many children at our hospital. The other day, I saw a tot who had a death grip on a 5-Hour Energy shot. We had to get the entire EMS unit to pry it from her grip. It makes me worry for future generations."
To combat this depression, we've composed a master list to keep Carnegie kids awake in these trying times.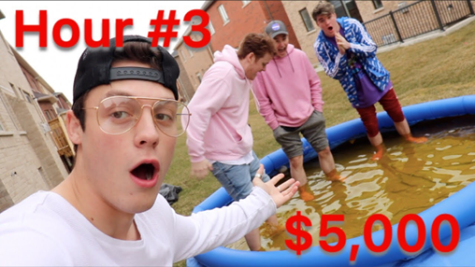 ~
The battery acid drink, seeing a resurgence in recent times, but originally created around the beginning of 2021, is a beverage sure to wake you up in the morning with your daily dosage of heart failure and liver convulsions.
To make it, you'll need a heartful dose of sulphuric acid (which can be found through "connections" or at a Costco Wholesale) and some water.
When I initially tried this drink, I was slightly underwhelmed as I was under the impression it would ignite me just a tad more.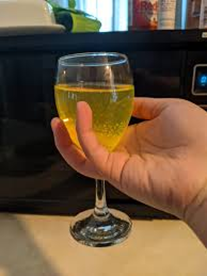 However, the second sip was different.
The sulphuric acid's eccentric flavor burned a path down my throat that I still haven't been able to forget. The water was a satisfying quench after such an overwhelming and piquant flavor. The balance between the hot and spicy acid and the morally gray water was that of two lovers – a passionate acid and a calming base. It was chemistry class all over again – but this time, more romantic.
The only issue I could find to complain about was the lingering flavor of metal. Initially, it added to the overall experience. However, after a few days it overstayed its welcome, similar to a college roommate.
Overall, we'd rate this a 6/10.
~
Another franchise well-known for its high caffeine concentration, Bang Energy, took a leap of faith with their new flavor – Rocket Fuel.
"We were inspired by the SpaceX thing," states Bang's chief executive officer, owner, and self-entitled 'banger', Jack Owoc. "I saw the rocket and thought, 'I wish I listened to my father and went to college for engineering."
Rocket Fuel is the epitome of the perfect energy drink – from the can (stylized as a replica Apollo 13, pre-explosion) to the drink itself, this is a certified "banger".
"Our demographic is shifting towards younger kids- toddlers. We wanted a can that they can easily grab with their itsy bitsy, fat fingers. Apollo 13 is just a tall, straight cylinder."
Unfortunately, the use of inorganic nitrates and carbonaceous fuels has led to this drink being blacklisted in multiple countries. America is one of these. Don't ask how we got any.
The drink has turbulent flavors which all come together for a collage of delicious flavors as if God and the Devil came together and played a round of golf. There's lingering anxiety between them, as represented in the steep addition of raspberry extract, but this anxiety helps them come together all the more.
It's a perfect drink.
10/10, with a special note to Jack Owoc that says, "please bring my family back."
~
5-hour Energy shots are well-known for their on-the-go caffeinated shots. After years of silence, 5-hour energy has released a new and improved version called "876600-hour energy".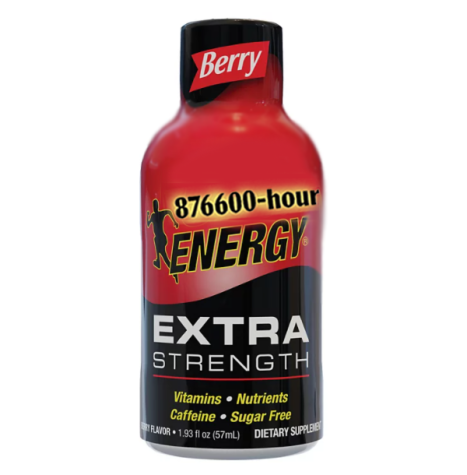 "We have been working on this ["876600-hour energy"] for a while now," said 5-hour Energy CEO Manoj Bhargava. "We think this drink is really a show stopper."
"876600-hour energy" is yet to pass FDA regulation in the US and isn't available in stores. I ordered straight from Asgard, where it is currently being manufactured.
At first glance, there are evident clumps of god knows what floating on the top of the drink. The drink looks older than Queen Elizabeth herself. I took the shot faster than you can say heart attack, and let me tell you.
At first, there was no flavor, but then you are hit with the fruity bland flavor of chemicals. I was able to complete a month's worth of math homework, build my dream house, and make a multi-billion-dollar company.
The downside was that my heart rate went up to 148 beats per minute. Not to mention the twitch of my left eye and right hand.
Highly recommend it. We give it an 8.99/10.
~
Though it may seem tough to get your daily fix in accordance with recent times, there is a way to persevere and get the caffeine that we Carnegie students want – nay – need. Staying up to study for tomorrow's history test will be a breeze with some battery acid and Rocket Fuel.
*UPSTREAM NEWS IS NOT RESPONSIBLE FOR ANY POSSIBLE DEATHS THAT MAY OCCUR AS A RESULT OF TRYING THESE DRINKS*
View Comments(1)
About the Contributors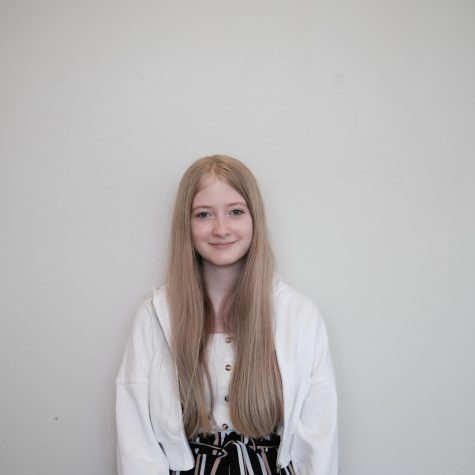 Nadia Talanker, Contributing Writer
Nadia is a senior at CVHS in her 4th year of writing for the Upstream. She has been writing as a hobby and competitively for nearly a decade and her favorite...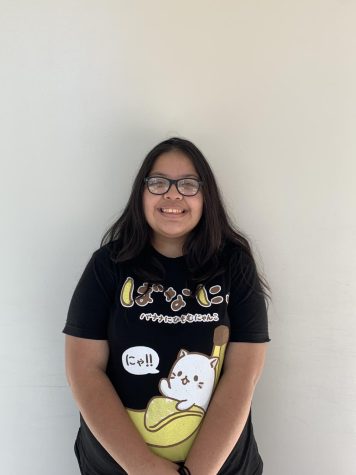 Judith Carrizales, News Editor
Judith Carrizales is a junior at CVHS. She participated as a member of the Film, Riot, and WISE clubs. Her favorite subjects are Journalism (of course!)...