Food Review: HISD Beef Ragù Entree
Walking through thick large glass double doors sets the scene; fine dining. My nose is struck with an elegant aroma of truffle oil and aged parsley as I walk across the shinning grey floor carefully hand-painted with white and red lines almost the width of basketball court lines. The seats were soft with firm support, round with minuscule hand-painted black specks that add roughness and uniqueness to every chair you could possibly decide to sit on. The tables were long polished slabs of African Blackwood coat surrounded with a thin layer of black opal, not polished as to leave a little bit of roughness on the edges. 
Beef Ragù
When you have their beef ragù, you spend your time untangling beautiful thin rods of spaghettoni glazed with thick truffle oil to make a perfect bite on the side of your platter. On my utensil was a tomato marinara, hinting many flavors towards thinned common ketchup topped with Italian seasoning. On top of my neatly arranged goldfinches nest of Ragù sat 3 polpettine placed perfectly to create a triangle, they were a light grey color that leaned towards becoming a brown and rough on the edges, exactly how they should be. They were seasoned so simply, first, I tasted fresh-picked rosemary, next was freshly mined Appalachian salt, and ended with freshly cracked peppercorns. 
Gougères
I was served 5 gougères, the gold to brown ombre that sat on the top of each of them embodied the sunset at the Grand Canyon as the golden sun finally touched the tip of the brown peaks and the colors blended perfectly in your vision even though it hurt to look at. I picked one up to slowly tear open, white smoked mozzarella oozed out as I squeezed my tiny brown pillow between my thumb and index finger. Once the mozzarella fell out, it was followed by a hidden pocket of aged olive oil, which splats to the bottom of my plate to create a perfect pool for the rest of my gougères to bathe in. After 5, I couldn't have any more, they served me a perfect amount. 
Frenchly Fried Potatoes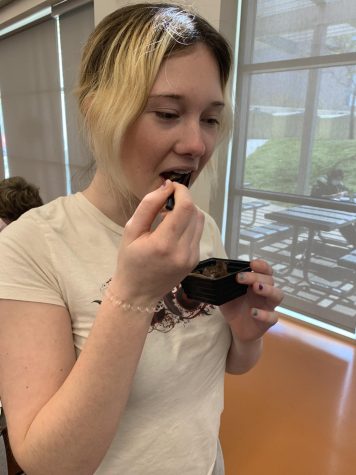 Glittering orange half-smiles were served steaming on a rectangular white plate,  they were thick and almost intimidating because of the vapor expelling out of their pores. When picked up, they were strong and sturdy, coated with a mystery breading that was orange. It crackled over the edges of the wedges. It was speckled with black, red, and tiny brown dots; a blend of aged paprika, black peppercorn, and cumin (maybe some red 40 for color). The potato was soft on the inside, I barely had to bite it. Once you ate the coating, the potato was a wonderful bland unseasoned mashed filling that was probably fried, frozen, and fried again. 
Chocolate Mousse
This dish is whipped and stirred by hand for hours in the kitchen, it is infrequent that they ever have it completely completed, so portions are lessened. Served in a thin glass squared bowl rested a thick bouncy mouse that was hand-shaped with a small curl at the top of it. The spoon that was served to me was made by an artist who hand cuts small ridges on the ends of them to be multi-purposeful, helping me pick less mousse, so each bite is the right size for an average human mouth, about half a tablespoon. The mousse is velvet, melting immediately when it hits your warm mouth. Chocolate with a hint of cinnamon dance to "thinking out loud" by Ed Sheeran on your tongue. 
View Comments (2)
About the Contributor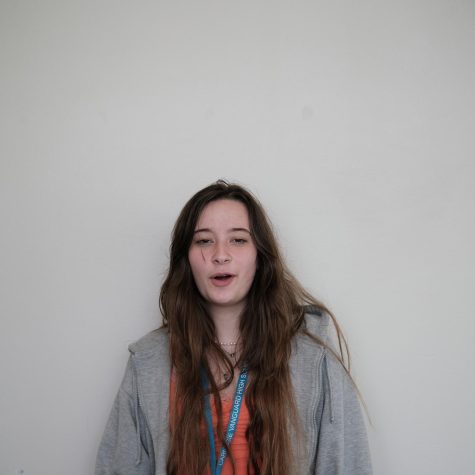 Julian Namerow, Features Editor
Hi, I'm a senior. I am a feature story editor and i have the best dog in the world.