COVID-19 Front Line Soldier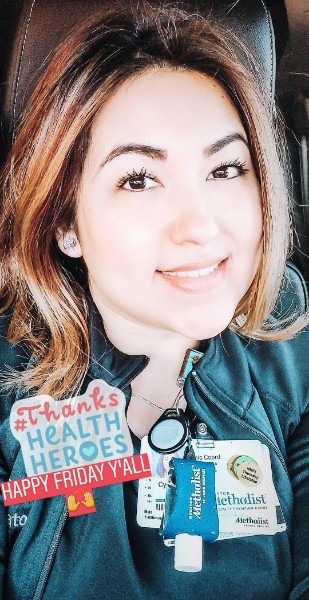 Cynthia Linares has to prepare herself mentally every day, setting her fear aside to help the injured. She fears going to work every day, she fears coming home in the scrubs she has worked in all day, fearing that they might have a strand of COVID-19 on them. This is the fear that Cynthia Linares, my stepmother, has felt every single day since Houston announced its first case of coronavirus.
My stepmother works as an Orthopedic Clinic Coordinator for Houston Methodist, she tends to mainly treat older patients who are well into their 50's and older. Due to her workplace environment, she is constantly putting herself at risk.
"It's scary because we're exposing ourselves to get infected and I worry a lot because I'm afraid of bringing that back to my family to you guys[my family]," Linares said.
Four weeks ago, her biggest fear so far became a reality. When COVID-19 was only just starting to gain traction in Houston, the Patton Village officer who had tested positive on March 14th, was the husband of one of my stepmother's co-workers. His wife also tested positive but wasn't aware of this fact until much later. On March 16th, my stepmother had come in contact with her upon leaving the building, putting my stepmother at direct risk. Luckily, my stepmother tested negative for COVID-19, but that did not change the fear that had riddled her in the days of waiting.
The number of cases in harris county has risen from 3,047 just last Friday, to 3,629 cases reported on Sunday, April 12. With 2,214 of those cases just in Houston alone. Due to her work environment, Linares's fear had amplified.
"I've had my days like, you know, last week, I'm not gonna lie going to work. I was crying because it was just they finally hit me like, it's really happening. It's getting worse and, you know, you look around you and you'll be there right in the center of it all," Linares said.
To add on to this fear and pressures of these times, the "front lines" are now being ridiculed and harassed for wearing their scrubs out in public. On Monday, employees of Methodist were warned through email to not go into public places with their scrubs for their own safety. A nurse who was in her scrubs pumping gas into her car, had her window smashed by upset Houstonians, blaming her for spreading COVID-19. Another less extreme incident is with my stepmother's coworker. Her coworker, before work, had gone into the grocery store. It was 7 am in the morning, yet people were giving her sideways glances.
"Nurses are risking our lives treating patients with COVID, so they are feeling like we are heroes because they are helping people, but then they are being criticized for wearing our scrubs to go shopping," said Linares.
As noted by KXAN, the majority of nurses going into grocery stores in their scrubs are not even nurses who work with COVID-19 patients. My stepmother and her coworkers treat older patients with joint, bone, muscle, and ligament injuries and conditions, yet they still receive criticism. To prevent any future harassment, my stepmother goes straight from work to home. Where she then disinfects her bag and heads straight to the shower, bagging her clothing to prevent any possibility of spreading COVID-19 at home. Although She may not have much protection when she leaves work, my stepmother now feels a lot safer at work due to the new procedures being put into place.
"We have to get screened before and after we leave the center screened for temperature. They have to check our temperatures. Make sure that we don't have a fever, and then they ask us if we have had any symptoms like; have you had a cough? Have you had chest pain fever?," Linares said.
The screening is especially important because my stepmother treats older patients, and typically the people she treats already have preexisting conditions. Making these procedures even more vital. Additionally, to help reassure patients, Methodist has started virtual online appointments, which lead to a substantial decrease in patients being seen.
"We used to see 50 patients in one day but now, the amount of patients we see has gone down to 20," Linares said.
The patients that they do see are the first and second post-operation patients(people who have been operated on a week or two prior), patients with fresh injuries, and new patients. The number of patients that were allowed in the waiting room used to be 150 but has now shrunken to 5 patients to practice social distracting. To further practice social distancing, there are now only 4 physicians in rotation every day, each seeing a maximum of 10 patients in person (before, there used to be 30 to 50 patients seen by each physician every day).
Additionally, appointments are now spread out so that only one patient is seen per hour, in that hour, the rooms are sanitized by a sanitation group. Fortunately, most patients are very compliant and understanding of these new practices being put into play, but of course, there are always some black sheep in the herd.
"We had just to call security that day because the patient was not being compliant. Since we can't force them to comply and put on a mask, we had to refuse care, especially in a pandemic like this," Linares said.
The situation she was referring to was one of the rare occurrences where patients do not comply. In this case, a patient was coughing in the waiting room, claiming it was allergies. Other patients started to show concern, so in response, she asked the patient to put on a mask for the protection of others. She continually refused and after three times of being asked to put on a mask, she had to be escorted out for not complying.
Throughout all this fear, Houston Methodist has been there to reassure my stepmother, it has been there to reassure our whole family. Although we do know the risk she is taking every single day, she is working hard to provide for us, and through this pandemic, we know that we will get through this together because that is what family does.
"Although these are scary times and I am put under constant stress mainly because I'm scared of bringing something home to you guys(our family), I am trying to stay positive, because I know eventually, this will all pass," Linares said.
Leave a Comment
About the Contributor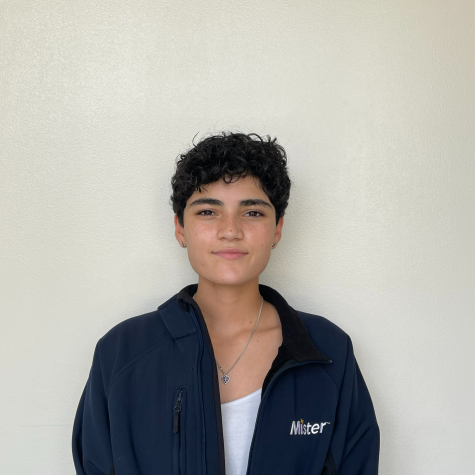 Katherine Linares, Editor In-Chief
Hello! My name is Katherine. I'm a senior who is heavily invested in the rock genre and spends a little too much time playing around with photoshop.