Coronavirus Di-seizes Senior Year
When news of a novel coronavirus began to make its way out of Wuhan, China, worry started to spread around the globe. Initially, there were not that many cases reported in China and many took it as a small matter that would only happen in China. However, the number of cases started to pile up and soon, there were cases present in the U.S. This was followed by cases with unknown origins. As COVID-19 continues to spread around the nation, citizens are making changes to their normal lifestyles. For senior Michelle Nguyen, her final year at Carnegie changed drastically. Now, all the senior events and plans she looked forward to are up in the air.
While the first cases of COVID-19 were publicized in early January of this year, the first case dates back to November 17, 2019. It was Doctor Ai Fen, known as the whistleblower, who spread the news of the virus to the outside world. Coronavirus is a type of virus and there are many types. COVID-19 is a type of coronavirus that causes respiratory illness. Due to the virus's exponential growth, HISD originally issued a district-wide closure until March 31. As time has gone by, the return to school has gotten further away.
For Nguyen, COVID-19 has heavily impacted her senior year, specifically the senior activities. Many of the traditional final year activities that Carnegie has may not happen as a result of the virus. For Nguyen, this comes as a disappointment as she had been looking forward to them. These senior activities such as prom and graduation were supposed to be her final moments of Carnegie and wrap up her high school experience.
"Prom, senior trip, and graduation are events that I was really looking forward to all year, but I don't know if those events will happen anymore. It's the end of our high school career and everything that we did this year was our final thing at Carnegie. It's weird thinking about our final day at Carnegie and how we didn't know it would be our final day. All of my friends and I were looking forward to getting decked out in our prom dresses and being able to walk across the stage and get the diplomas that we have worked so hard for. Now we don't know if that is happening. It's really sad because all the events that make up a traditional senior year experience are something that we can't have anymore. My friends and I are disappointed, but we all understand that public health comes first," Nguyen said.
Before Nguyen heads off to college, there is one more set of exams she must complete: AP exams. This year, Nguyen took AP Spanish Literature, AP English Literature, AP Chemistry, AP Government, AP Macroeconomics, and AP Calculus. Collegeboard has decided to move all their tests online as a result of school closure. One problem Nguyen sees with online APs is the fact that there are technical issues that can occur during the test. As a senior, this is Nguyen's final year to get course hours in using AP exams. If Nguyen goes through a technical issue during her exam, it could potentially ruin her chances of receiving college credit.
"This year, we're taking AP exams online. We've been trying it with some of my classes like doing practice FRQs and submitting them online, and I will say that it's really stressful. It's a new style and no one's really used to it yet. One thing that concerns me is the fact that there are technical problems that can happen while students take their AP exams. During my actual AP tests, I hope my web browser doesn't just crash in the five-minute window we have to submit our exams," Nguyen said.
Looking into the future, as a senior, Nguyen will be heading off to college in the fall. She planned to tour a couple of campuses before committing to a school. Because of COVID-19, all schools she planned to tour are closed. This has made her decision process harder because, for Nguyen, education is not that only criteria when choosing a college; the environment of the school and the community are things she also takes into consideration
"Normally, when deciding where to go to college, people will go on campus tours. We are given days to fly to schools we've been accepted to to tour around and see what the environment is like and meet other students. Because everything is virtual now, we are doing Zoom calls to talk to admissions officers and other students. I have been watching a lot of online college video tours to see what the campus lifestyle is like and see what the dorms look like. It sad to not be able to go out and actually experience the college environment for myself. Right now, I'm deciding everything based on a virtual experience and that's not the same as going there in person," Nguyen said.
Although COVID-19 continues to spread around the country with the number of cases increasing by the day, Nguyen remains hopeful that the curve will flatten and everyone will soon be able to return to their normal lives. As for her senior year, she hopes that the class of 2020 will be able to experience senior activities like graduation.
"If everyone keeps vigilantly practicing social distancing and follows the CDC guidelines, then I'm certain that we'll be back to our normal routines eventually. As for the class of 2020, I'm hopeful that we will all be able to walk across the stage and receive what we have been working for for the past four years," Nguyen said.
Leave a Comment
About the Contributor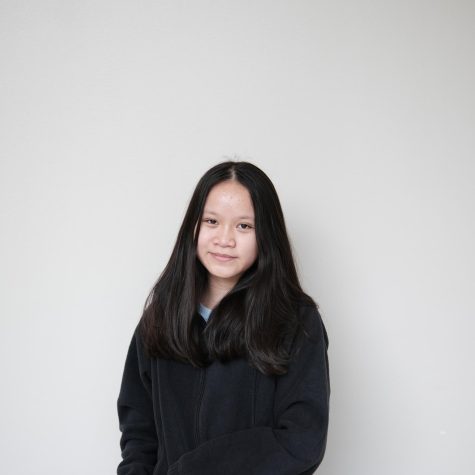 Hilary Nguyen, Opinion Editor
I'm a senior who loves reading, taking naps, and the Oxford comma.