Abbott has abandoned us, so we must now protect each other
People are risking their lives just to get a meal in Texas, because restaurants are opening up at capacity way  too early during this pandemic.
The NY Times' Texas Coronavirus Map and Case Count, just reported that as of March 31, 2021 there "at least 119 new coronavirus deaths and 4,166 new cases were reported in Texas" and "an average of 3,688 cases per day," which is too high for restaurants to be opened at full capacity.
If we ever want to overcome the coronavirus and return to normal, opening up restaurants and businesses at 100% capacity is not the way to go. 
Since March 10, 2020, as businesses begin to reopen at full capacity, cases have still remained high, with Texas being around 9.68% of all COVID cases in the United States, according to the New York Times.
Greg Abott stated when reopening Texas: "COVID has not, like, suddenly disappeared. But it is clear that state mandates are no longer needed. Removing state mandates does not end personal responsibility. Personal vigilance is still needed to contain COVID."
Although Abbott is calling attention to personal responsibility, there is no way to determine how many people will care for others around them. Once people are given the opportunity to do what they want, what's to say they will return to following simple rules. As a state that is part of the U.S., we are making a mockery of ourselves by being one of the few states that has lifted the mask mandate and restrictions on businesses. 
Texas has the second highest population in the US meaning we are more likely to have more cases. As of April 3rd, according to Becker's Hospital Review, Texas has 9,622 confirmed cases per 100,000 people. That number is way too high with a state that has a population of roughly 30 million. In Texas, we have around 2.7 million cases. Telling people who possibly were not careful enough and who contracted the disease, that they do not have to wear masks, is going to just make the situation worse.
Perhaps, the only silver lining is that the lifting of the mask mandate is compelling more people to get the vaccine. Texas ranks 45th nationally in terms of the overall percentage of its population fully vaccinated, according to Becker's Hospital Review, but this past Friday it ranked 36th in terms of how fast allocated doses are being distributed. 23% of residents 18 and older have been fully vaccinated, compared to 25% for the nation as a whole.
This still will not be enough to achieve herd immunity. About 59% of Republicans in Texas have said they will not be getting vaccinated, according to Texas Tribune. Some believe that if they are around people who are vaccinated, then they are safe. Although it works to a certain extent, it is selfish to come in contact with many people and not be vaccinated. 
I contacted a worker at the restaurant Fogo De Chao and they claimed that they saw a drastic increase in the number of people eating at the restaurant since the mask mandate had been lifted. I myself have made some observations on the restaurant Toulouse Café and Bar. I noticed that there has been a significant increase in the amount of customers that dine outdoors, with no social distancing, since restaurants were able to open at 100% capacity.
If we, as the people of Texas, ever want to go back to normal, we need to take accountability and become responsible for not only ourselves, but the people around us. We need to keep wearing masks, and try to limit the amount of interactions we have. We need to get vaccinated. According to Yale Medicine, the vaccine Pfizer-BioNTech is up to 95% effective, and the vaccine Moderna is around 86% effective. Regardless of how effective any vaccine is- a vaccine is better than no vaccine.
Ensuring the decrease in COVID cases and bringing this pandemic to an end is now in our own hands. Our state government sure won't look out for us. So don't be selfish and let's look out for each other- wear as mask and get vaccinated. 
Leave a Comment
About the Contributor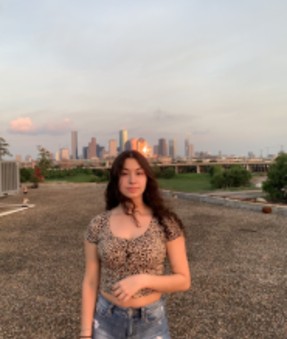 Talia Moghnieh, Staff Writer
i'm a sophomore staff writer. i like to bake and paint